RNG Online Roulette versus Live Roulette
One of the most obvious differences between playing Live Roulette rather than Online Roulette is the croupier (live dealer). But that's not the only feature that distinguishes the two. It is the differences that make the live version such an exciting variant.
Genuine Roulette Wheel
The images you see when playing an online roulette game are virtual. Although beautifully illustrated, the roulette wheel is computer-generated and does not determine the outcome of a spin. Where the ball lands is determined by the software's random number generator (RNG). A random number generator is fair because the pocket that the ball falls into is not influenced. Still, online roulette just doesn't elicit the same sensation as playing in a live environment. Live Roulette uses real-life dealers and a real roulette wheel, allowing you to watch the ball up until it lands in a pocket.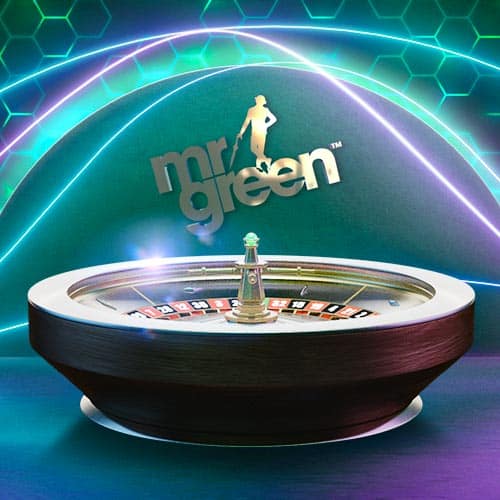 Live Chat
Undeniably, online roulette has many advantages. Still, one of the greatest disadvantages is that it eliminates the social element inherent in playing at a Live Casino. The reason is that there are no other players to chat with. Nor is there a live dealer, for that matter. One of the most enjoyable parts of playing at a brick-and-mortar casino is the atmosphere created by the players around you. There is nothing quite like sharing the excitement of a win with other people.
Live Roulette allows players to experience this simply by using the live chat feature. You can communicate with the live dealer and the other players seated at the table around you.
Live Support
When playing in a Live Roulette room at Mr Green, you can be confident that a support team behind the scenes is ready to help if you're having a problem. This may be a rare technical issue, or you may find the gameplay unclear. The live chat function will allow you to get a hold of us to find a solution.
Greater Table Variety
Players can find a great variety of Online Roulette and Live Roulette games with us at Mr Green. We offer European, American and French roulette, so things can't get stale. Just keep in mind that the rules between variants can be different, so be familiar with them before playing. This is also true of the minimum stakes, which can differ depending on the table.
High Definition Streaming
The Online Roulette games at Mr Green are designed with stylish graphics of a virtual roulette wheel and table. Still, it's hard to beat our Live Roulette games that use real-life roulette wheels, streamed in high definition. Each table has multiple high-resolution cameras positioned at different angles to provide a quality view of the action.